Souvenirs of Murder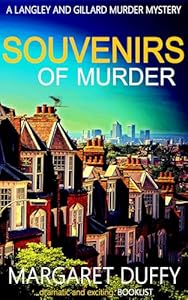 Ingrid Langley and Patrick Gillard - Book 13
Ingrid Langley is not too pleased when, just after the birth of their third child, Mark, her husband Patrick, working for SOCA, is sent on a dangerous assignment. Involved with looking after the newborn and site-managing the alterations to their new home she has no time to brood about it, especially when she finds a corpse in the church vestry, the death obviously not from natural causes.
Despite her worries about Patrick, who has been ordered to track down Andrea Pangborne, one of the aliases of a woman regarded as one of the world's most dangerous criminals, Ingrid promises herself that she will not get involved with investigating what she has taken to calling The Case of the Man who Tried to Take Over a Village and Ended up Dead. But, needless to say, she does.
Before long she has a much more immediate, and personal, problem as Pangborne is murdered, together with some of her associates including a child. All clues point to Patrick having been the killer.