Stone Cold, Stone Dead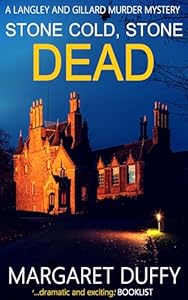 Ingrid Langley and Patrick Gillard - Book 21
An unwelcome blast from the past puts Patrick and Ingrid back in harm's way…
Nicholas Haldane was dead, but he wouldn't lie down. And now Julian Hardy, the man who hired him in a bid to destroy Richard Daws, a top official in the National Crime Agency, is out of prison and has changed his surname to Mannering.
Patrick Gillard, working for the agency but within the Avon and Somerset force with his wife Ingrid Langley, receives a request from MI5, for whom he used to work, to investigate Mannering. They are then called in when his cleaner makes a shocking discovery.
Meanwhile, an enigmatic couple calling themselves Simon and Natasha Graves turn up in the village, intent on pestering Patrick's recently widowed mother. Could there be a connection to Mannering?