Stealth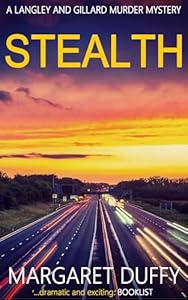 Ingrid Langley and Patrick Gillard - Book 16
Ingrid Langley is in Cannes, ostensibly for an international writers' festival but actually watching a crime writer by the name of Clement Hamlyn Hamlyn is suspected of having connections with serious criminals after information provided by an elderly woman, Rosemary Smythe. Ingrid and her husband Patrick Gillard, who work for the Serious Organised Crime Agency, establish that Hamlyn visits a boat owned by a wanted man in the marina. They are then shocked to be told that Miss Smythe has been murdered and return to the UK.
Miss Smythe had been snooping on her neighbour, Hereward Trent, reporting seeing him and others, including Hamlyn, handling firearms, unpacking them from crates. Trent is known to be friendly with a senior policeman who is under investigation and he has other associates known to consort with criminals.
Was Miss Smythe killed because she had spied on her neighbour? Her niece, Jane Grant, has been befriended by Hamlyn so is she in danger as well or involved with what is going on? And is there any connection between all this and a previous case involving the extensive criminal empire of a London mobster, the closing stages of which when he killed three men are still haunting Patrick?