Ashes To Ashes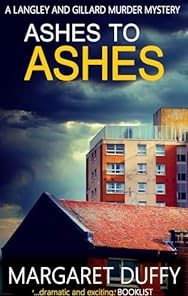 Ingrid Langley and Patrick Gillard - Book 18
Should Patrick Gillard carry on with his hazardous job with the National Crime Agency even though his role is officially only that of 'adviser'? Ingrid, his wife also works part-time for the NCA, mostly as a 'consultant' to him. He finds her intellect and intuition invaluable, in fact he can't do without her.
A local woman, Mrs Anne Peters, comes to see Patrick's father, the rector, as she thinks there was something very wrong with her late husband's recent funeral, that the wrong body was cremated. On leave, Patrick promises to look into this to help his father. Soon, criminal activity is evident when their friend DCI James Carrick's wife, Joanna, who is applying to rejoin the police, does a little investigating of her own. Asking questions in London she is kidnapped by thugs and locked in a derelict garage. Mrs Peters' home is then destroyed in a massive explosion.
Is the blackened skull found in the ruins hers or is she part of a criminal conspiracy? Is there any connection between this and the death of the funeral director who organised her late husband's cremation, in what had been supposed was a car accident?
Benny and his accomplice are now out of prison, and soon the intimidation of Carrick and his family returns. When Cooper is found murdered, Carrick is also found unconscious at the murder scene, and his blood-stained clothing makes him the prime suspect. Ingrid and Patrick take up the case, plunging themselves and their careers into grave danger. But how far is Patrick prepared to go in order to prove James' innocence?